Margarito Ramos Tavico
July 17, 2015 11:06 am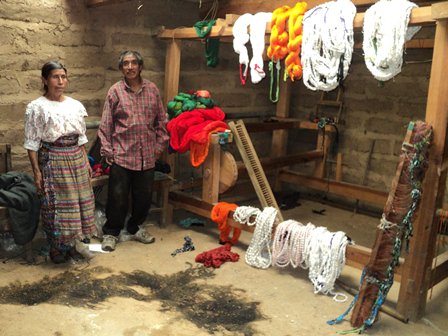 Margarito Ramos Tavico is 64 years old, and was born in Panajxit village, in Santa Cruz del Quiché, to more than 160 kilometers from the Capital City, since a long time he dedicated to make traditional clothing.
Although the market for his products is good in the region, Mr. Margarito could not increase his operations until he knew of FONDESOL's services, he had tried to get financing but, the institutions and lenders had oppressed him with high interests and for this reason, he could not get it. In 2008, he found out about FONDESOL's services and decided with others members of his community make a community bank and was part of the directorate like adviser. He asks for his first credit of Q500.00, this amount has increased as he completed the previous credit payments. The dynamic of FONDESOL for supporting poor people of the rural communities has allowed that Mr. Margarito can increase his production and sales.
He used this financing for buying raw material, and so, make traditional clothing of the region, where now he gives work to members of his own family and of the community. The example of Mr. Margarito has served to many members of the community bank to motivate others in the village, despite his advanced age, he is a very honorable and respected person and he is very pleased to be part of the group and for having support.of FONDESOL.
Categorizado en: Success stories
Esta entrada fue escrita por Eduardo Alexander Palencia Tejada