We are an institution of the catholic church, specialized in Rural Microcredit that has established a dynamic microcredit program in the rural area of the country, it has a big potential for attending credit requeriments of an important number of micro entrepeneur and small-scale producers. FONDESOL was created in 2004 from the merge of different microcredit programs of the Catholic Church in Guatemala (CCG). The CCG's visión is to create a financial entity that is present in all the country and works with people who has a low income.
FONDESOL gives small amounts in credits to micro entrepeneur and to small-scale producers who live in rural areas through 29 agencies, providing financial services to more than 72,000 women and men, specially to natives in rural areas who live in poverty conditions, with a methodology of customer care that has allowed the expansion of its operations in ascendent way, making easy to provide credits to rural customers (mostly women) of different places through 3 financial products Communal Bank, Solidarity Group and Individual Credit.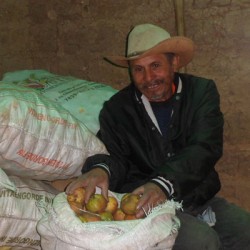 Mission
Make people that live in poverty be protagonists of their own development, by providing quality financial services.
Vision
To be a self-sustaining microfinance institution offering quality services in all the country in a solidarity way, providing easy access to credits, especially in poverty areas.
 Values
Dignity:It is based on the recognition that people should be treated with respect
Respect: It is defined as the base of moral and ethical support
Integrity: To demonstrate honesty in behavior and actions.
Honesty: Ensure trust, security, backing and confidence.